Function meets form for the right desktop speaker stands.
Soundrise Desktop Speaker Stands grew from a personal need to raise my reference monitors on a flat desk to get a better performance from the speakers. With some work, we went from a cardboard prototype, to a heavy steel first production,  to the final current aluminum signature model, the Soundrise Pro. Reclaiming your valuable studio desk space is their main role.

Audio interfaces, keyboards and outboard gear clutter any available desktop space. That's why your reference monitors shouldn't take up any more space than they should. Simply rise your reference monitors by 9" inches and angle them down 1 degree perfectly aligning tweeters with your ears.

Musicians and recording artists use Soundrise desktop speaker stands in small to large, busy to minimal desktop setups. Our unique, first of their kind speaker stands, help recording producers save about 2 square feet of space.
Top Plate Dimensions
Measure 6.5" Wide x 8.5" Deep making them perfect for all standard 5" and 8" reference monitor speakers.
The overall stand measures 6.5" Wide x 9.5" Deep x 9" Tall.
We love our customers.
Give me a call with any questions or just to talk sound. (818) 590-8621 Ask for Sunny. or Email me alex@withsound.com. If you're proud of using your Soundrise stands in your recording studio, email us a photo to be included in our a 
Customer's Studios
Above all, our customers rave about the perfect fit they get from their 5" and bigger studio monitors.
From consumer grade to Pro grade desktop speaker stands, there's a fit for almost every desktop speaker brand. Each aluminum stand weighs about 3 pounds. However the weight they can carry is over 4 times that. Each Soundrise stands have been tested to carry speakers up to 28 - 32 pounds. Anything above 15 pounds tend to have a slight wobble until it settles in place.
When reaching the final design, we wanted a durable, high quality product that makes a real difference in people's homes. When you realize how much the right desktop speaker stands improve the quality of sound when aligned with your ears, it should be enough to convince these are important for every sound designer.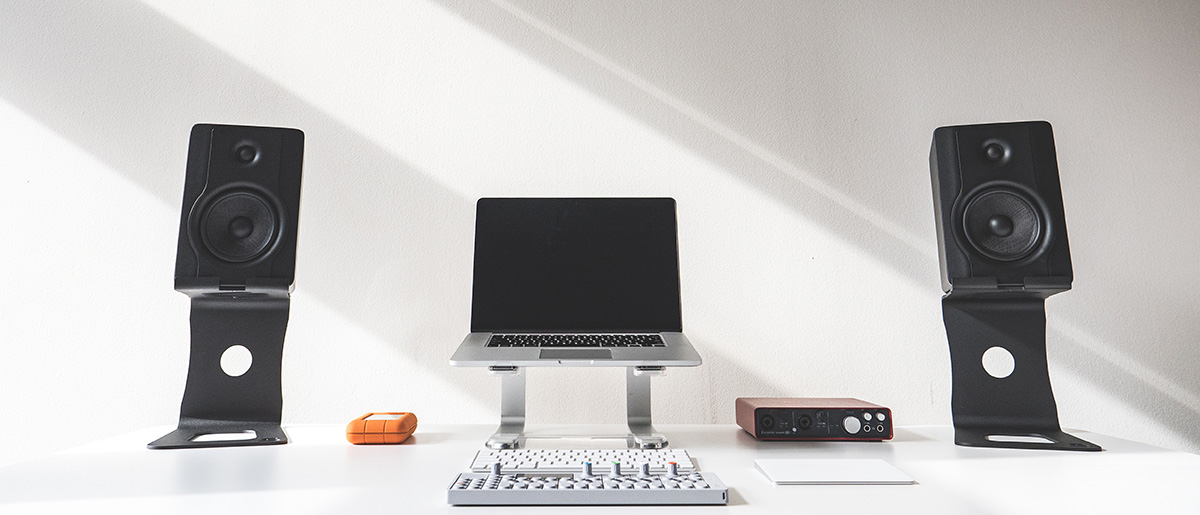 Actual Customer Reviews
"THANK YOU to the @soundrisepro team for these amazing monitor stands that I have just gotten that's PERFECT for any desk to level out your studio monitors. Guys and Gals if you're looking for proper studio or speaker stands for your desk, LOOK NO FURTHER. Made of metal and not heavy, built to perfection. 🙏"

The famous DJ MrV
Dear... creator of these speaker stands. I've felt guilty for not writing this review sooner. I have a pair of Paradigm Shift A2 bookshelf speakers. Your speaker stands seem to have been made for the A2's (or anything else that same size). At first, I was skeptical. I thought they'd be too easy to tip over. Also, the flexing of the stands freaked me out a bit. However, after using them for about 5 months, I can say your stands are the best I could find and well worth the money. They bring the speakers to ear-level and look great while freeing up desk space.

Also, I'm always stoked to back an American company that makes good products.

Will Gibbons
Like factory made for my ProAc Tablettes (Zamp v.3, AQ King Cobra, Marantz HD-DAC1) USB desktop sound system . The best part is that the desk is left with tons of usable space. This unique and a bit pricey product is a must for the audiophile with a busy desk.

EV4Life from Amazon
These stands are wicked cool. Sleek and a nice look. I love the fact that they are C-shaped which allows for you to put items under the speakers. More desk space! They are very heavy duty. They hold my M-Audio BX5a monitors with as much ease as Arnold Schwarzenegger holds a 35kg kettle bell in his delicate arms.

A funny customer ('ProfessionalProductions') from Amazon
Soundscribe to our newsletter
Get Promo Codes, B-Stock availability - Straight to your inbox.